This article describes steps you can take if you are unable to log into risevision.com.
Follow the steps in this article to create an account using your own email address instead of a Google or Gmail account.

We recommend using Google Chrome to access Rise Vision. If you are using a different browser, try Chrome instead.

If you are using Google Chrome, and are having trouble logging in, or the password reset didn't work, it maybe because you are using the incorrect authentication method. You need to determine if the email address you use to log into Rise Vision is a Google Account or a non-Google account email address.  
Step 1: Confirm if you are using a Google or Non Google Account.
Go to this page, and enter the email address that you use to log into Rise Vision. If your email address is not associated with a Google Account you will see the error message: "Couldn't find your Google Account. Try again."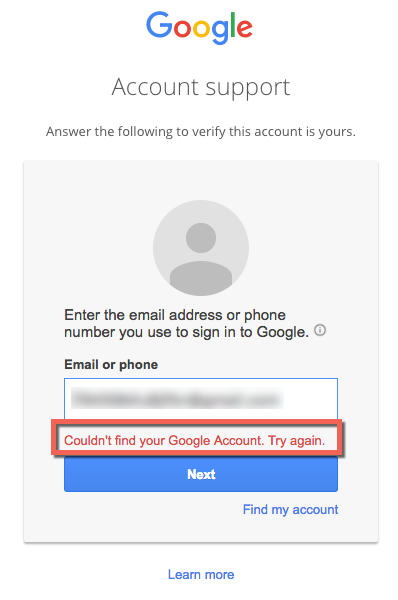 If you do not see this error message, then you know the email is associated with a Google Account.
Step 2: Try to Log in with the Correct Authentication Method
If you have a non-Google Account email address, use this option to log into Rise Vision. If you have forgotten your password, click the "Forgot Password" link to reset it: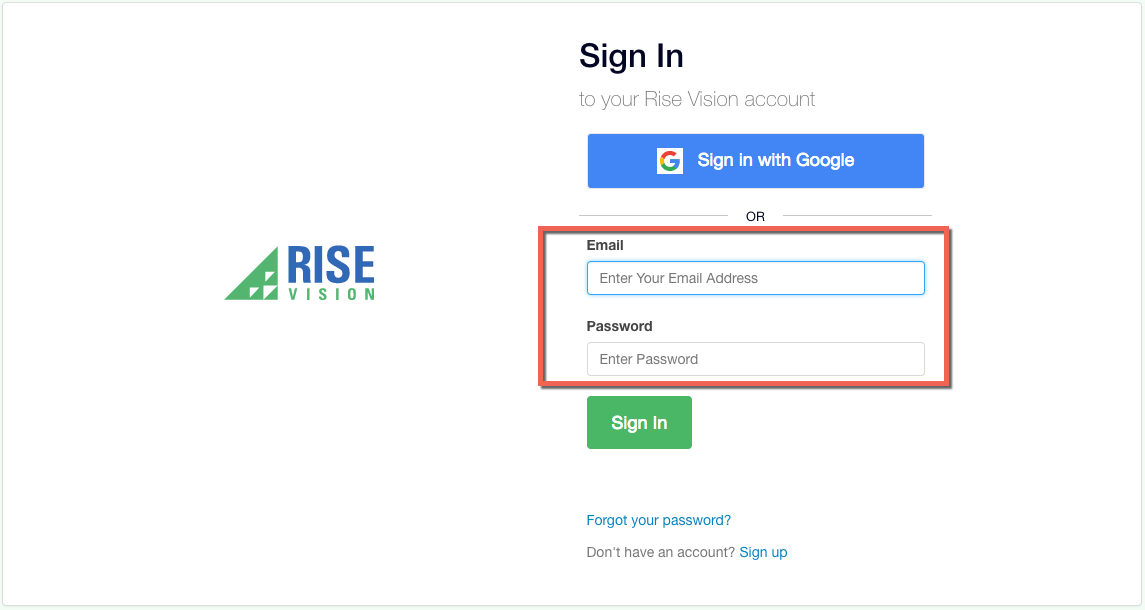 If your Rise Vision email address is associated with a Google account, log in via the "Sign in with Google" button.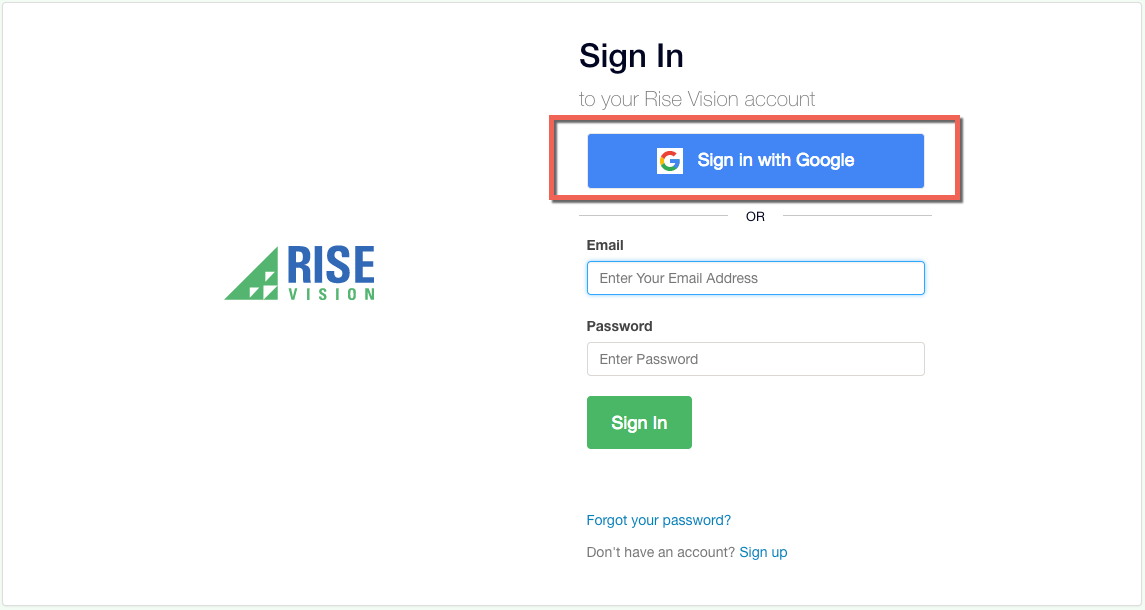 If you forgot your password, you will need to reset your password through Google.  You can do this by following the Google Authentication path as outlined above.  After you entered your email address you can click the "Forgot password" link to reset your Google account password.

Step 3: Clear your browser cache
In Chrome toolbar, click the three vertical dots in the top right.
Click "More Tools"
Click "Clear Browsing Data"
In the dropdown menu select "the beginning of time"
Check the boxes "Cookies and other site and plug-in data" and "Cached images and files"
Click "Clear browsing data"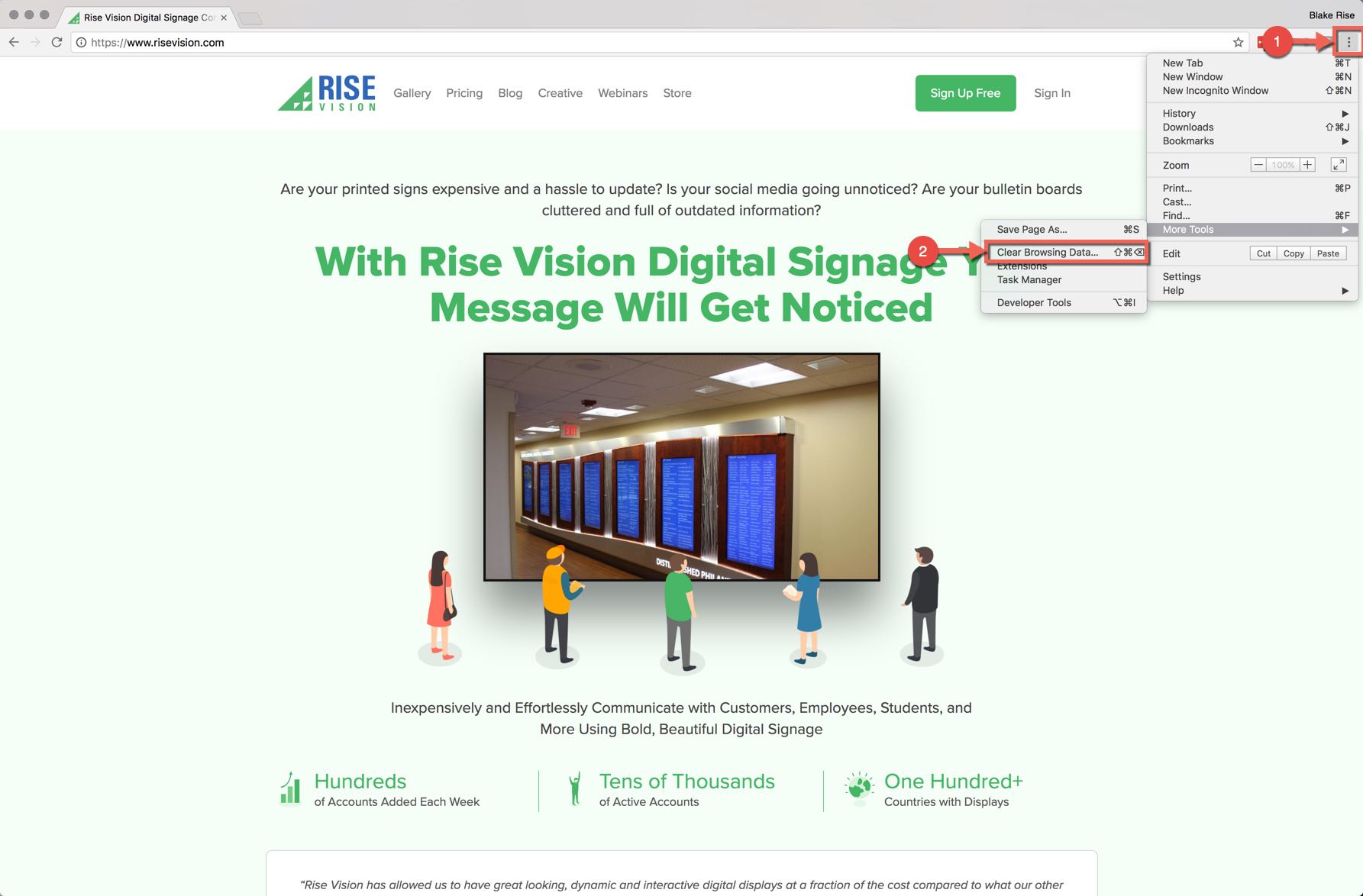 Step 4: Incognito window
Some browser extensions may interfere with the login process. Navigate to chrome://extensions/ to view your enabled extensions. Disable any that are allowed in incognito.
In Chrome toolbar, click the three vertical dots in the top right
Click "New Incognito Window"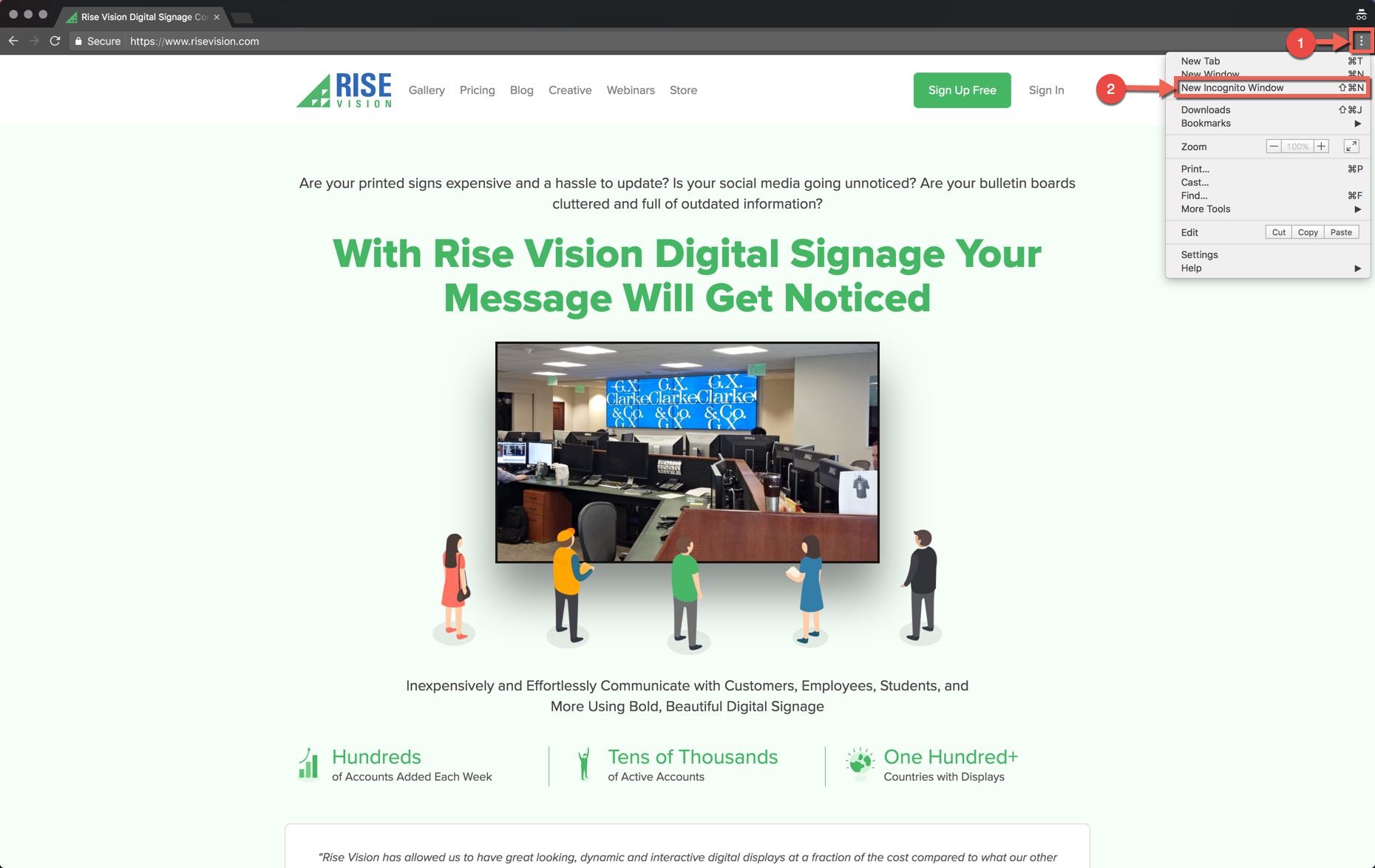 Additional troubleshooting

Login using a different computer
If the above troubleshooting steps fail, it's possible that the computer you are using has software that is interfering with logging into Rise Vision. Attempt to log in using your account on a different computer.

Login on a different network
It is possible that there is a network service such as a firewall or proxy running that is prohibiting you from logging in. Attempt logging in on a completely separate network using your credentials.
Ensure you are not blocked by your firewall
Ensure that all the sites listed in our Network Requirements article are allowed through your firewall, and accessible from your computer.