NOTE: These are the instructions to install the Beta version of Rise Player for Chrome OS.
If you encounter a problem using Rise Player on Chrome OS please send us an email at support@risevision.com along with a description of the problem you are having and any supporting information that will help us correct it. 
---
Rise Player for Chrome OS is only supported on Chrome managed devices that are assigned to a Chrome policy according to these instructions. For more information about Chrome device management please see, About Chrome device management.
Setup Chrome device policy
Creating a policy is how you configure Chrome devices to run to Rise Player in Kiosk mode. Once you have created the policy, any device assigned to it will automatically install Rise Player and be configured to start when the device is powered on or restarted.
Create Organizational Unit
Go to Manage Organizational units and add a new Organizational unit called Rise Vision Digital Signage.
Create Device Policy for Organizational Unit
Go to Device Management and select Device settings
Select the Organizational unit Rise Vision Digital Signage on the left side of the page.
Configure the policy by setting the respective value for each setting below. If a setting from the policy is not shown below you can use the default values provided.

Sign-in Settings

Guest Mode

: set to "Do not allow guest mode"

User Data

: set to "Do not erase all local user data"

Device Update Settings 

Auto Update

: set to "Stop auto-updates"

Kiosk Settings

Kiosk Apps

: Add Rise Player using the ID, lomneokodaoflgnkpkpdcgjlnibbgbai

Public Session Kiosk

: set to "Do not allow Public Session Kiosk"

Auto-Launch Kiosk App

:  set to Rise Player

Screen Rotation (Clockwise)

:  set to "No policy set..."

Allow kiosk app to Control OS version

: set to "Allow kiosk app to control OS version"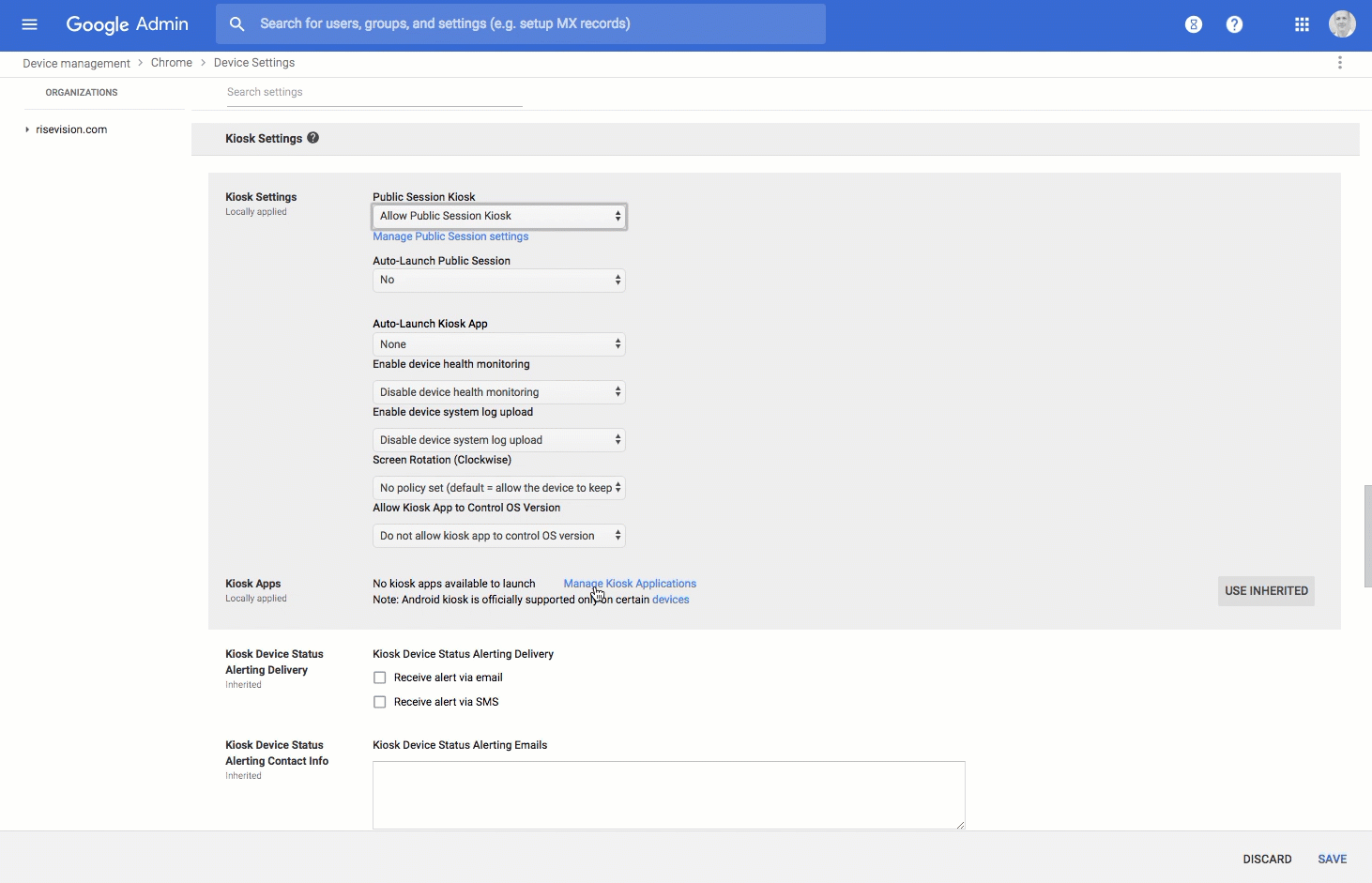 Enroll devices and setup your Displays
Once your Organization unit and policy have been defined you can setup your Displays with the following steps
Enroll your Chrome device. You can find instructions here if you're not sure how. 
Assign your Chrome device to the Organizational unit Rise Vision Digital Signage. 
When your Chrome devices have picked up the policy Rise Player will be started. When prompted by Rise Player, enter your Display ID