What are Schedules?
Schedules are the link between your Presentation and your Display. Using a Schedule, you control which Presentation will be shown on which Displays, and when it will be shown - the day of the week and time of day.
You can create one or many Schedules. And a single Schedule can contain one or many Presentations. The Presentations you add make up the Schedules Playlist. The Schedule plays the content of the Presentations in its Playlist according to the Timeline and Distribution you specify. The Timeline controls when a Schedule plays - e.g., the specific date(s), days of the week, and duration. The Distribution you specify controls what Displays the Schedule plays the content on. You can select all Displays or just specific Displays. Once set, all Presentations in the Schedule will play according to the Timeline and Distribution.
When you create your first Presentation, Rise Vision automatically creates a default Schedule for it titled "All Displays - 24/7". Your first Presentation will be the only Presentation in the default Schedule's Playlist. You can edit the default Schedule to control when and where the Presentation shows. You can also edit the Schedule's Playlist by adding or deleting Presentations. By default, this Schedule is assigned to all Displays, however, if you don't want this Schedule to control all Displays, you can set its distribution to only the Displays you want.
How do I access Schedules?
There are two ways to access Schedules:
After logging into Rise Vision, the Schedules column on the Rise Vision Home page will list all Schedules in your company. You can click on any Schedule in the list to open it.

Click Schedules in the navigation menu to go to the Schedules page. On this page you can Search for a Schedule by name or scroll through a list of the Schedules you have created.


Multiple Presentations in one Schedule
You can add as many Presentations as you want to the Playlist of one Schedule and control the specific days, time of day and duration each Presentation shows as part of the Schedule.
Example:
A shop owner wants to show their Waiting Room Presentation during business hours. An advertisement for Holiday Sales has also been added, and will rotate on a set duration with the Waiting Room Presentation. Since a holiday weekend is approaching, and the shop will be closed on Sunday and Monday, they've added a third Presentation to play alone on those two days.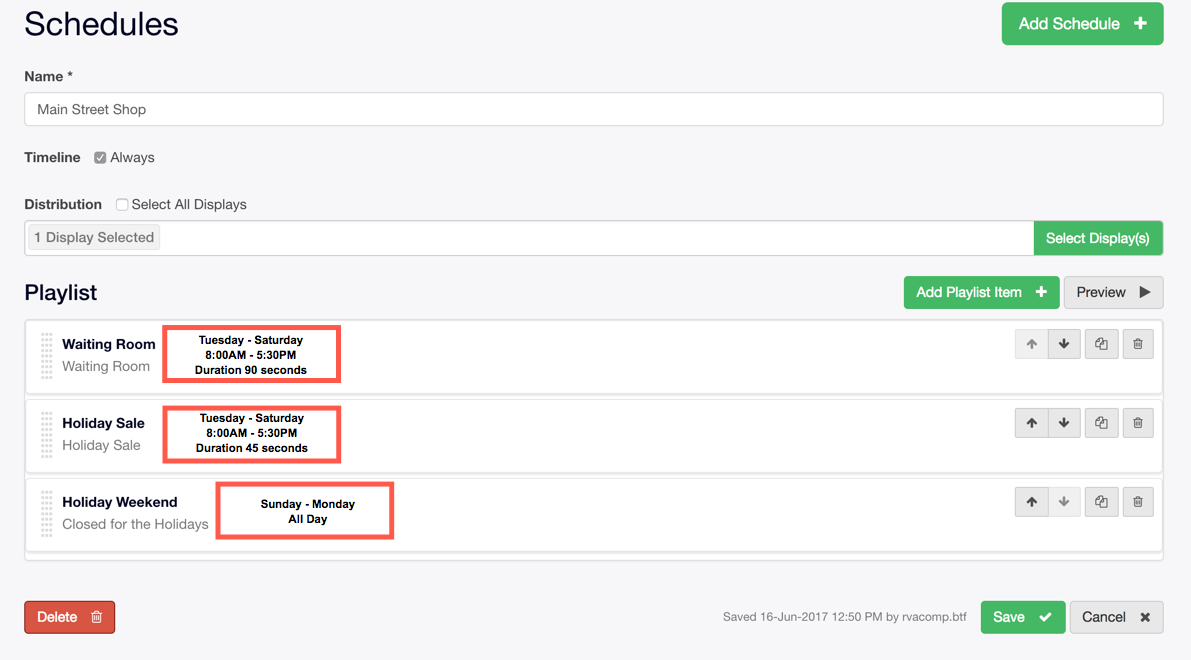 Multiple Displays in one Schedule
You don't have to create a unique Schedule for each Display if you want them to show the same content! You can add as many Displays as you want to each Schedule so you can create one Schedule that controls all your Displays or just a certain group of Displays.
Example:
The shop owner has added a consultation room to their shop, and they've placed a Display in that room. They want the same Presentations that appear on their Lobby Display to appear on the Consultation Room Display. Using Display distribution, the shop owner adds the new Display to their existing Schedule. Now the same content will appear on both Displays!

Multiple Schedules
If you have multiple Displays, and want them to show different content, you'll need to create an additional Schedule for each one. You can create as many Schedules as you want.
Example:
Business is booming for the shop owner! They've decided it's time to open a second shop, and since their Displays at the Main Street shop have been so successful, they want to add a Display to Broadway. Instead of being closed for business on the upcoming Holiday Weekend, they have some special events booked to promote the business, and want to Schedule an Upcoming Events Presentation to show along with their normal Waiting Room Presentation.