A Display ID is a 12 character alphanumeric code assigned to each Display that you add in Rise Vision. Think of it like a phone number; when you finish your presentation, the Display ID tells Rise Vision who to call. This will keep each Display running its own scheduled content without interfering with each other.
When you add a new Display, a Display ID is generated automatically and it needs to be added to its corresponding Media Player when Rise Player launches for the first time. A single Display ID cannot be used on multiple Media Players. If a Display ID is assigned to more than one Media Player, only one will display scheduled content, and all others will show an error message. You should never share your Display ID publicly. 
Where can I find my Display ID?
Navigate to displays.risevision.com and click the Display you want the Display ID for. The Display ID is located under the Display Details section.
Can I recover a deleted Display ID?
You cannot recover a deleted Display ID. If you accidentally delete an active Display, the next time that Display starts up it will ask for a Display ID. Simply create a new Display in Rise Vision, assign it to the correct schedule, and add the Display ID to the Media Player.
How do I change the Display ID on a Media Player?
When the Rise Player software launches you will have the option to change the assigned Display ID. Click Change Display ID on the Rise Player will start in… screen.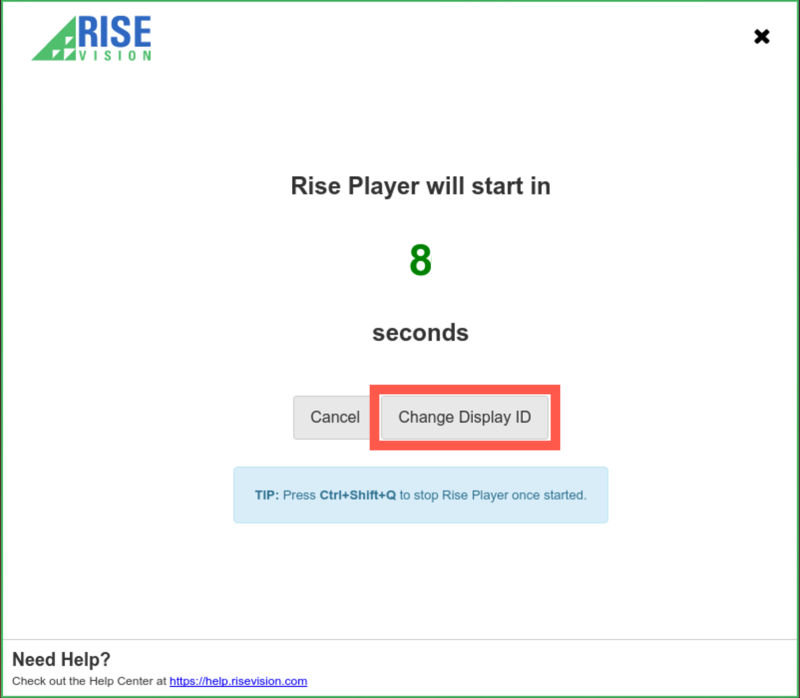 How do I install Rise Player on my Media Player?
Downloads and instructions are available for each supported Operating System in their own articles.
Install Rise Player on Windows
Install Rise Player on Raspberry Pi
Install Rise Player on Chrome OS