Canada
If you have been with the company for 3 months or longer, you are full-time, and you reside in Canada, we have extended coverage that pays for most of the costs of prescription drugs, dental and other health services, and it further provides a small life insurance policy and long term disability plan.
USA
If you are full-time and you reside in the US we provide health insurance from the first of the month following 60 days of employment. The company pays 50% of your medical insurance premium, vision and dental insurance. 
Medical, Dental and Vision Insurance are provided by Aetna. The images below provide a general overview of the plans and monthly costs to you (deducted pre-tax from your paychecks - divide the cost by two to see how much comes out of each paycheck).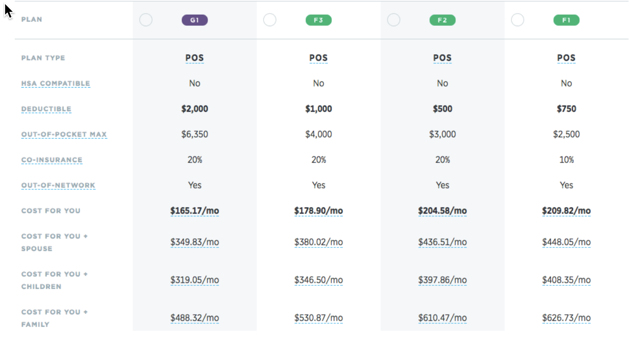 All of the medical plans include Teladoc at no additional cost to you. Teladoc helps employees access on-demand health insurance anytime, from almost anywhere. Teladoc offers virtual health services, which allows you to speak to a physician via phone or video. That means a physician is always just a call, click or swipe away. Consultations will cost the same as regular doctor visit co-pays for your plan.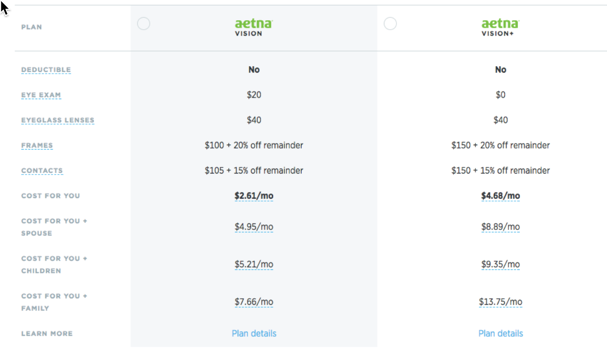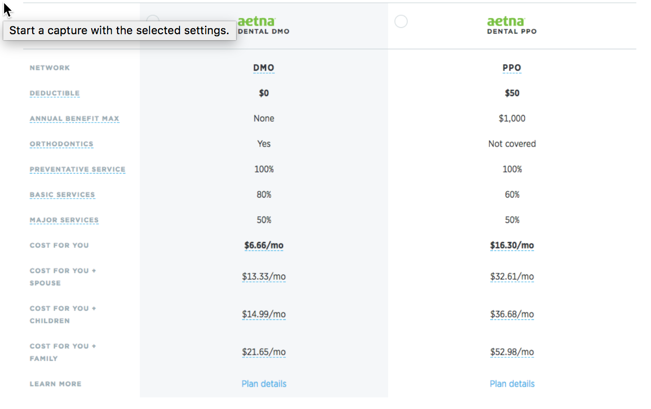 Flexible Savings Account (FSA): Use pre-tax dollars to pay for out-of-pocket health insurance or dependent insurance expenses. When you enroll, you'll elect how much you'd like to set aside pre-tax. The total amount then gets deducted evenly from each paycheck for the remainder of the calendar year. You can then use these funds for different IRS approved expenses. Funds do not rollover and unused funds on December 31st will be forfeited.
Health Advocate is available to you and your dependents at no cost. You do not have to enroll in an Aetna plan through Justworks to take advantage of this service. Health Advocate provides unlimited, confidential access to a dedicated consultant (known as a Personal Health Advocate) to help you resolve healthcare and insurance-related issues. You also have access to 24/7 access to confidential counseling services for a range of mental health needs and access to legal services, child and eldercare, and financial planning to help you take care of the people that matter most and get your finances in order.
Long-Term Disability Insurance is 100% employer-paid (no cost to you). LTD insurance may cover a portion of your income during an extended period of a disabling illness or accident. This benefit eases your concerns of financial hardship by providing a steady stream of income while you are unable to work. You will be automatically enrolled in coverage through MetLife.
Basic Life and Accidental Death & Dismemberment Insurance is 100% employer-paid (no cost to you) and pays out a sum of money (up to $25,000) upon your loss of life, or loss of limb, eyesight, hearing, etc. You will be automatically enrolled in coverage through MetLife.
Supplemental Life Insurance is an employee-paid benefit that you can elect to enroll in if you would like additional coverage over and above the Basic Life benefit paid for by Rise Vision USA. You can elect coverage up to a maximum of $500,000, provided that any amount in excess of $100,000 is subject to satisfying the insurance carrier's health underwriting requirements (you'll need to submit a statement of health). You can also elect dependent coverage for your spouse. Prices for both employee coverage and spouse coverage depend on the amount of coverage and on the employee's age.
Anywhere Else
If you reside outside of the US or Canada the company will contribute up to 4% of your base compensation for health care. If the country you reside in provides coverage or the cost of the coverage for health care is less than 4% the company will fund that amount. For greater certainty the company funds the cost of your health care up to a max of 4% of your base compensation.