Table of Contents
How do I set up a display?
You have 3 options to set up a display
Use a dedicated media player connected to your display and install the Rise Player software for your operating system;

Windows 10/11
Ubuntu 18.04 LTS
Chrome OS
Raspberry Pi
Android
Fire OS


If you don't have a media player, we recommend the low-cost Android device preconfigured with Rise Vision
Or you can talk to your preferred hardware vendor or purchase a pre-configured media player from our partners;

Linux Celeron NUC
Windows i3 NUC


Or you can use any display that can show a web page full screen such as collaboration displays

used in a class or meeting room

;

Airtame
Zoom Room
Mersive's Solstice
ScreenBeam
Vivi
Thin clients

or a device that you manage from a Mobile Device Management platform such as Radix.
Web Player browser requirements
Rise Vision Web Player is supported with the following browser versions:
Google Chrome version 81 or higher (recommended),
Safari 14.0.3 or higher,
Edge version 81 or higher
IMPORTANT: using incognito mode or clearing browser cache will cause your registration to be lost and you will have to register again.

In order for Web Player to work properly, the browser it is opened in must support and enable the following Web APIs; Local Storage, IndexedDB, Cache Storage and Service Worker. To ensure these APIs are enabled in Google Chrome, enable Cookies per the following instructions.

Enable Cookies in Chrome
Open Chrome and navigate to chrome://settings/cookies
Scroll down to "General settings" and select the radio button "Allow all cookies"

If you are unable to configure Chrome to allow all cookies, you can alternatively add a rule to accept cookies for the site, https://widget.risevision.com.
Open Chrome and navigate to chrome://settings/cookies
Scroll down to the section "See all cookies and site data"
Click the "Add" button for "Sites that can always use cookies"

Enter the url, https://widgets.risevision.com and click "Add"

What screen should I use?
For the best viewing experience with our templates, use a screen with a 16:9 aspect ratio. All the popular brands typically offer TVs in HD (1920x1080) or 4K (3840x2160) which are ideal for digital signage. Support for other aspect ratios is limited.
Can I use more than one screen for the same display?
If you want to use multiple screens or a video wall, you need a Windows media player to run Rise Vision Player. Multiple displays are not supported on any other operating system.
Our templates are designed to scale automatically to 16:9 aspect ratios, which means to use templates your Displays should be arranged in a square such as 2x2 or 3x3. That said, you can build custom content to fit any display arrangement by starting from a blank canvas.
In this example I am configuring four displays that will be side by side in landscape mode. All four displays are set to a resolution of 1920x1080.


In Windows, make sure the setting for Multiple displays is set to "Extend these displays". This will make the displays behave like one big desktop.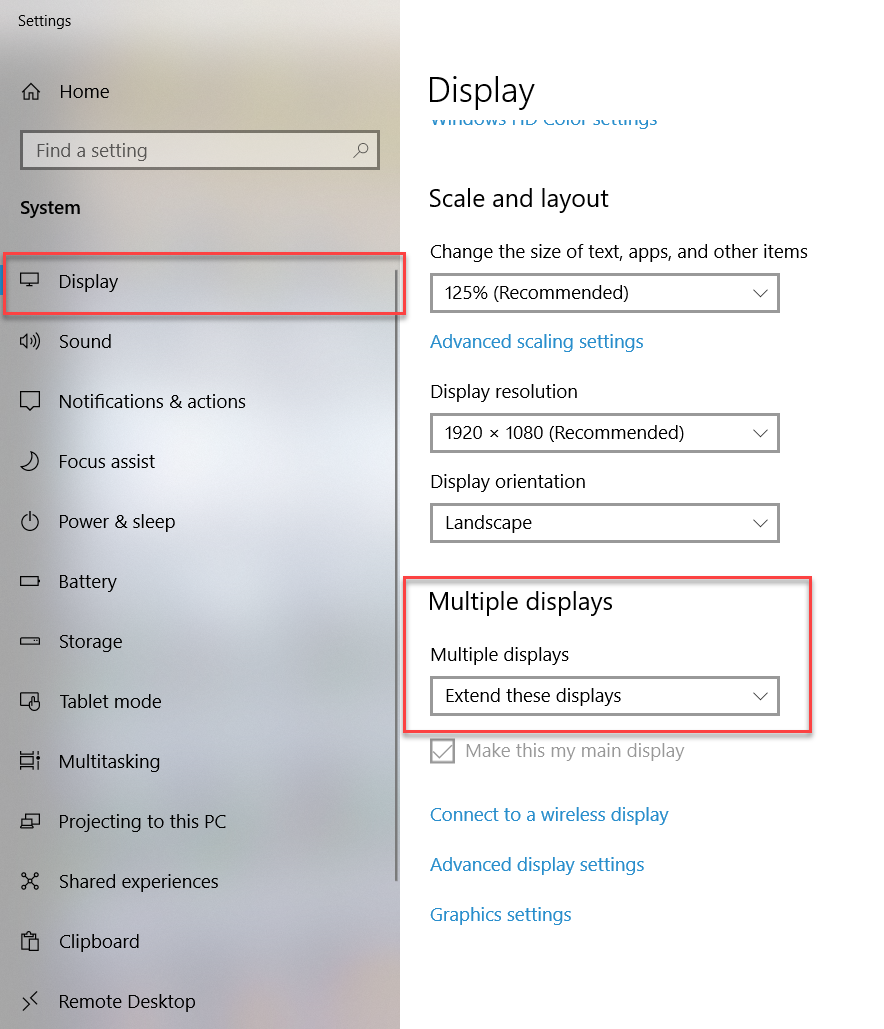 I need to configure Rise Player to treat four displays as one large display, so I will take the horizontal resolution (1920) and multiply it by 2. My new screen width with be 3840. I will also take the vertical resolution (1080) and multiply it by 2. My new screen height will be 2160.
In Windows Explorer, navigate to C:\Users\your username\AppData\Local\rvplayer. Replace your username with the name of the account that is logged into Windows.
Right click the RiseDisplayNetworkII.ini file, then click Open With > Wordpad.

In Wordpad add the lines:
screenwidth=3840
screenheight=2160

Save and close Wordpad.
Connect any additional Displays and restart Rise Player.